Hwacheon is establishing the century-long tradition.For the last 70 years, perseverance, honesty, and devotion have been the principles behind the success of Hwacheon.Now for the next half centuries, Hwacheon will raise its competitiveness in the world market, while renewing the tradition of unparalleled service for the clients.
Hwacheon's door is open. In attempt to take a step closer to clients and practice business transparency, Hwacheon's knowledge and information shall be open to its clients.
Hwacheon can proudly state that it understands machine tools better than anyone in the industry. Hwacheon's products and services have soul—they are created with Hwacheon people's devotions and with the client in mind.
That's why every Hwacheon product continues to live on from the moment it's created until it finds home in your trust. When this trust is realized you and your company will be even more competitive; and you will understand why Hwacheon has been synonymous with the words "best partner" to many of its clients.
HWACHEON GROUP CEOKwon Young ryual
Hwacheon's principles of Perseverance, Diligence, and Honesty Realization of the 'Best Quality' policy and generation of values with virtuous cycles

Value system: completion of customer-satisfaction management, pursuit of 'Best Quality' policy Creation of fun and buzzing workplace Corporate culture: culture of voluntary participation, creative and innovative organization

Fun and buzzing workplace through communication and
creativity

The new 100 years, global machine tool specialist Business structure: reinforcing overseas business and cultivating new growth driver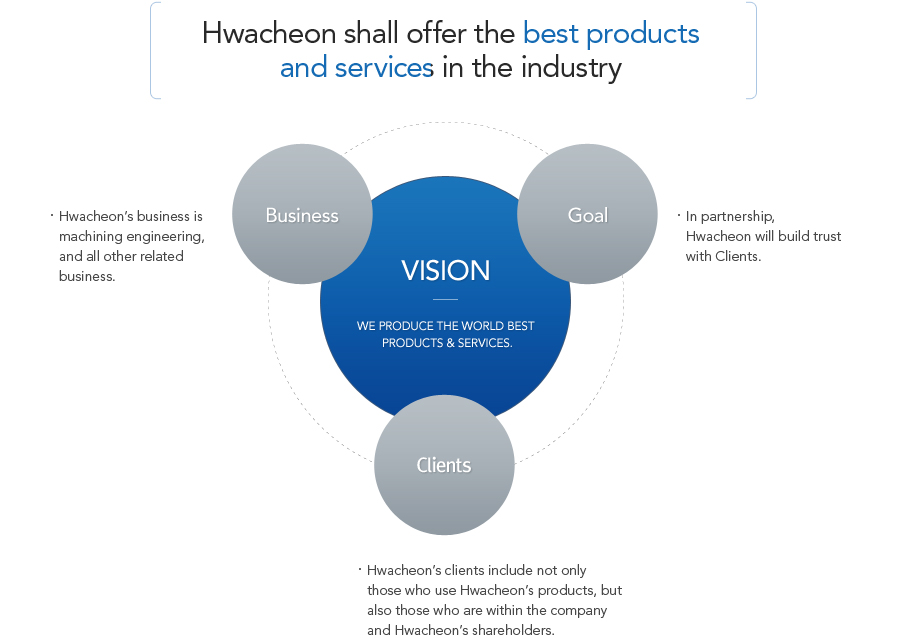 Hwacheon shall offer the best products and services in the industry
VISION

We produce the world best products & services.

Business

Hwacheon's business is machining engineering, and all other related business.

Goal

In partnership, Hwacheon will build trust with Clients.

Clients

Hwacheon's clients include not only those who use Hwacheon's products, but also those who are within the company and Hwacheon's shareholders.
reinforcing overseas
business and cultivating
new growth driver

Marketing
Production
R&D
Support
completion of customer-satisfaction management, pursuit of 'Best Quality' polic Creation of fun and buzzing workplace

culture of voluntary participation, creative and innovative organization